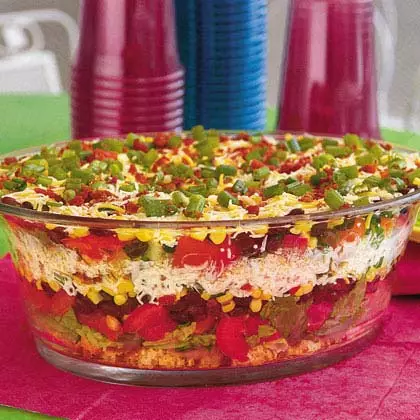 Dianne's Southwestern Cornbread Salad is as colorful as it is delicious.
⏲️ Prep time: 30 min
🍳 Cook time: 15 min
🍽️ Servings: 10-12
🥶 Chill: 2 hrs
Ingredients
1 (6-ounce) package Mexican cornbread mix
1 (1-ounce) envelope buttermilk Ranch salad dressing mix
1 small head romaine lettuce, shredded
2 large tomatoes, chopped
1 (15-ounce) can black beans, rinsed and drained
1 (8-ounce) package shredded Mexican four-cheese blend
6 bacon slices, cooked and crumbled
5 green onions, chopped
Directions
Prepare cornbread according to package directions, cool, and crumble. Then set aside.
Prepare salad dressing according to package directions.
Layer a large bowl with half each of cornbread, lettuce, and the next 6 ingredients: spoon half of dressing evenly over top. Repeat layers with remaining ingredients and dressing. Cover and chill at least 2 hours.