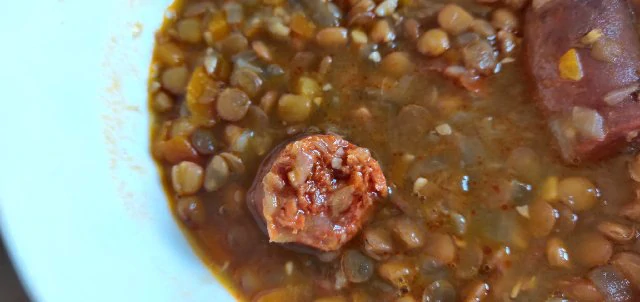 Traditional-spanish dish. Typical spanish!
⏲️ Prep time: 5 min
🍳 Cook time: 35 min
🍽️ Servings: 4-6
Ingredients
1 carrot, chopped
1 green bell pepper, chopped
4 garlic cloves, minced
1 large onion, chopped
1 cup dry brown lentils, soaked overnight and drained
2 plum tomatoes, chopped
2 cups water, or as needed
1 bay leaf
1 tbsp extra-virgin olive oil
1/2 tsp of paprika
1/4 spicy chorizo (optional)
Directions
Heat olive oil in a large pot over medium heat.
Add the onion, carrot, and bell pepper; cook and stir until vegetables begin to soften, about 5 minutes.
Stir in the garlic, tomatoes, chorizo and bay leaf; cook about 4 minutes.
Add lentils and water (water should be about an inch deeper than the level of the lentils).
Bring to a boil over high heat. Reduce heat to low; simmer, uncovered, until lentils are just cooked, 15 to 20 minutes.
Contributor(s)