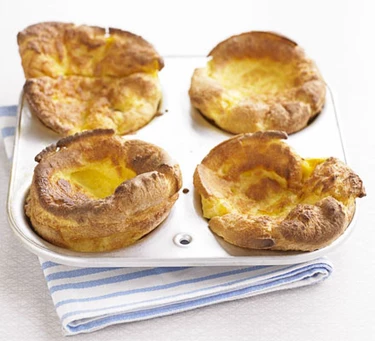 Basically the northern England equivalent of the french pancake ( a means to make use of extra flour when you didn't have enough for bread ). They go well with Sunday Roasts. Puddings may be preserved in freezer for up to a month.
⏲️ Prep time: 5 min
🍳 Cook time: 20 min
🍽️ Servings: 2
Ingredients
140g flour
4 eggs
200ml milk
sunflower oil
Directions
Preheat oven to 230°C / gas mark 8.
Drizzle oil into 24 'cupcake tin' slots. (The pans you make cupcakes in). Heat in oven.
Pour flour into bowl.
Whisk eggs, add to bowl.
Add milk to bowl in small amounts, beating/whisking after each addition. Until there are no lumps in the batter. You may season with salt & pepper.
Tip batter into a jug so that you may pour into the cupcake pan slots evenly and carefully.
Bake undisturbed ( opening oven will impede the rising ), until the puddings have puffed up and browned.
Originally published at https://www.bbcgoodfood.com/recipes/best-yorkshire-puddings
Contributor(s)